Pole Signs, any sign installed in or directly on the ground where the primary structural support is not a building but rather uprights, braces, columns, poles, or other vertical members. Common examples of free standing signs include pole signs, pylon signs, and monument signs.
Monument Signs, a ground sign with low overall height. A monument is a detached, freestanding sign whose sign surface is attached to a proportionate solid base or structural frame. Also called ground signs or low profile signs, monuments are typically known for their solid base and low-to-the-ground installation. They can be internally or externally illuminated.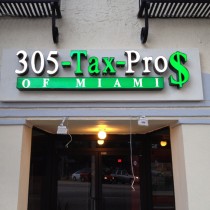 CHANNEL LETTERS/FRONT LIT
Channel Letters/Front Lit, standard channel letters are fabricated from aluminum. A flat sheet of Aluminum is typically cut by a computer controlled router table. This creates the back of the letter and is the basis for the letter shape. The "returns" of the letter are created by bending and forming a three to six inch wide strip of aluminum sheet around the aluminum back. This return can be welded or riveted to the back to create a solid "can" in the shape of the letter or graphic. After the letter "can" has been fabricated it is painted and fitted with any lighting components necessary such as Neon or L.E.D. modules. The letter "can" is finished with a plastic face that is usually cut from a 3/16″ thick sheet of acrylic. This acrylic face has a trim cap applied to its edges which finish the face with a nice border. The acrylic is front illuminated by the Neon or L.E.D.'s at night to give a nice lighted letter.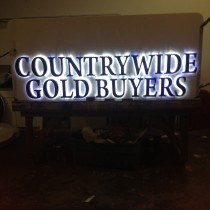 REVERSE CHANNEL LETTERS/BACK LIT
Reverse Channel Letters and Back Lit Signs, in this letter type, the face of the letter is constructed from aluminum and the lighting is directed to the back. This light floods the wall that the letter is mounted to and creates a negative space at night. Letters in this style are also called "halo letters".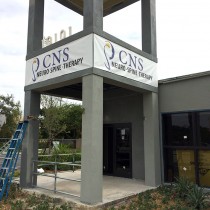 Full color banners work well when you need to have an eye-catching sign or announcement. Our digitally printed full color banners are printed on heavy-duty material utilizing industry leading technology. When text is all you need, call on King Signs to produce low-cost quality banners with standard fonts and solid color backgrounds.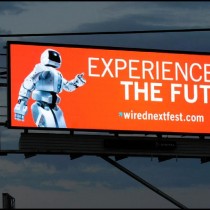 Outdoor LED signs, or Electronic Message Centers (EMCs) are computerized programmable electronic visual communication devices, specially manufactured for the outside environment. They are capable of storing and displaying multiple messages in dozens of formats and at varying intervals. Electronic Message Boards (as they are sometimes referred to as well) allow you to change your message frequently, but without the cost of replacing missing or broken letters, and without the physical labor involved in changing copy. Thus, LED signs allow you to communicate more effectively with the typical person passing by at a particular time day by changing the message and graphic of your sign to match the profile on the street.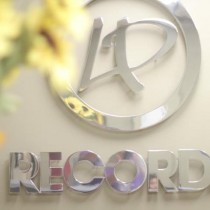 INDOOR OR OUTDOOR DIMENSIONAL LETTERS
Indoor Outdoor Dimensional Letters, a formed or fabricated non-illuminated letter. Dimensional letters create lower profile identification than illuminated or channel letters, but offer a wide variety of uses at an economical price. Almost any material can be used to fabricate dimensional letters, particularly for indoor applications, while non-illuminated letters for outdoor use made from materials such as Acrylic, Formed Plastic Letters, PVC, and Aluminum can provide years of durability and service. King Signs Miami has custom constructed an array or indoor and outdoor dimensional letter signs for various business across Miami and South Florida. Be sure to check out our work to see this work first-hand. Do you need a custom indoor or outdoor dimensional letter sign for your business? Fill out our free request quote form and we'll contact you right away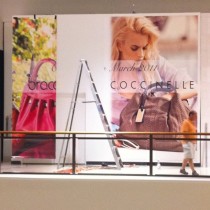 WINDOW GRAPHICS & LETTERING
Window Graphics & Lettering, an adhesive backed sign made of vinyl film or full color film, generally applied to windows, floors, displays or vehicles. Vinyl graphics can range from stock letters and die-cut decals to custom computer-cut lettering, logos, and full-color photo wraps. Vinyl graphics are composed of a polyvinylchloride film backed with an adhesive that creates a strong bond to a surface when pressure is applied. Available for a variety of short-term / long-term, indoor / outdoor applications, vinyl graphics can be applied to nearly any surface and are removable, leaving no residue.